Apple has finally released iOS 6.1 which is not a major update from iOS 6, but nonetheless, a worthy upgrade. After upgrading your iDevice i.e. iPhone or iPad or iPod to iOS 6.1, you won't get any new exciting features, but this upgrade comes with minor improvements and more support. Let's take a quick look on What's new in iOS 6.1: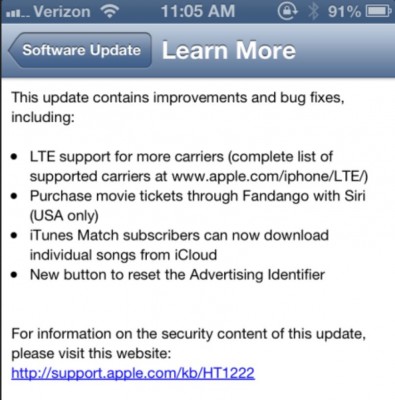 iOS 6.1 now adds 36 additional iPhone Carriers Worldwide for LTE support, 23 on the iPad side. This means that if previously your carrier was not supported, now you can enjoy high-speed LTE on your iPhone, iPad after the upgrade if your carrier is among the list of newly supported LTE networks.
Improved setup wizard for new users – You'll get this setup wizard only if you're setting your iPhone or iPad for the first time on iOS 6.1 after complete wipe.
There has been few improvements in Siri also. There is Voice Dial only switch implemented in Siri which would let Siri perform just calls, instead of performing any other tasks like launching iTunes by mistake.
For USA customers, there is a new feature added in Siri which will let you buy movie tickets via Fandango.
If you iTunes Match subscriber, you can download your favorite songs from iCloud.
Songs, podcasts can now be downloaded over cellular network i.e. 3G/4G from iTunes as earlier we had WiFi option available only. This new option is turned off by default, so you need to switch it on before using this feature.
A new button to reset the Advertising Identifier
Several other bug fixes and performance improvements.
Now that we know what's new in iOS 6.1 update for iPhone/iPad/iPod. Let's look at some of the crunching numbers and stats mentioned in the press release issued by Apple because you'll find it interesting:
iOS 6 is on more than 300 million iPhone, iPad and iPod touch devices in just five months, and hence can be called as Apple's most popular iOS release.
9 billion photos uploaded to Photo Stream by iOS users
450 billion iMessages sent by iOS users
over four trillion notifications received by iOS uers
Well, the stats really seem staggering, What's surprising here is that Apple's Maps fiasco didn't prevent Apple from highlighting pro points of Apple Maps in the press release.
How to update iOS 6.1 – Download iOS 6.1
iOS 6.1 is available as a free software update on the following devices: iPhone 5, iPhone 4S, iPhone 4, iPhone 3GS, iPad (third and fourth generation), iPad mini, iPad 2 and iPod touch (fourth and fifth generation). So, if you own any of these devices, you might have already received OTA update notification. You can visit phone setting app and download updates from there, or you can use iTunes to update your device. Given below are the direct link to the official iOS 6.1 firmware files for the mentioned iDevices.