Hangouts, a new app, from Google has been launched that replaces Google Talk, Google Plus Messenger, Plus Hangout video chat – all in one place. If you're still confused, just know that Hangouts is the app for chatting with gmail buddies (text, images or video), chatting with Google Plus circles (text, images or video). Several features of Hangouts are as under: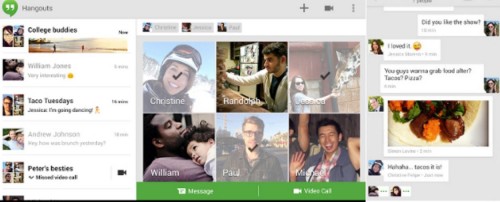 Ability to share photos and express your emotion through Emoji i.e. emoticons/smileys. (as you do in whatsapp)
Real-time activity indicators which show you what the other person is doing i.e. whether typing or whether the other person has seen your messages, etc. So, now you'll know when your friends are ignoring you.
Notifications are also now synced across your devices. If you see a notification on one of your devices, it won't be presented on other devices, thereby saving you time and annoying notifications.
One on One or Group video-calling feature. Either have video-conversation privately with your girlfriend or have real hangout on the web with the entire group of your amazing friends.
Conversation history is saved so that you can cherish your old times in future.
Download Hangouts app

Hangouts is available not just on android devices, but also for iPhone, iPad, Chrome. It's also part of gmail and Google+.
Download Hangouts for android from Google Play Store here. If Google Talk is already installed on your android device, you won't be able to install hangouts yet from the link given. Don't worry, you can enjoy this new app from out tutorial given below.
For iPhone, iPad from App Store here.
For Google Chrome from Chrome webstore here.
How to Install Hangouts on Android phones and tablets :
If you're unable to install Hangouts from Google Play Store, then follow our guide here on How to install it.
Method 1: For rooted android phones and tablets
Download an app like Root Uninstaller from Google Play Store.
Launch the uninstaller and uninstall Google Talk app.
Now Go to Google Play Store and download Hangouts from there.
Method 2: For regular android devices:
GO to phone settings and tick Unknown sources option to allow installation of apps from other sources than Play Store. This option is present in security setting on Samsung phones usually. If you don't find any such option on your android device, try the step given below directly. Chances are that you'll succeed without errors.
Now, download Hangouts apk from here and open it to install it. Done!
You'll be able to use it. For the first time, it might take sometime to install and launch. You'll also be able to update it directly from Google Play Store in future as well because this apk is official version of Hangouts.