With every pc manufacturer trying to encroach every other form factor with aim to dominating the prospective breed of hybrid computers niche that windows 8 has given birth to. In fact, I sometimes conclude that Windows 8 is the OS that has propelled or created the previously-hyped ultrabook market and provided it the strength it needed to prosper by suggesting a hybrid/convertible form to its form-factor. So, one may assume that it is Windows 8 that actually provided economic potential to the emerging market of ultrabook so that these pc companies could leverage this market niche (expensive for customers) to bank on more profits. But, there is immense fight, strong competition among pc manufacturers to capture this growing market as early and as ferociously as possible. This means more choices for consumers and decrease in prices (in upcoming time) suggesting a more reasonable and accountable attribute to pricing. That's why we've seen several types of ultrabook convertibles which has touch screen which could slide or rotate or be snapped out or folded in reverse direction. To this, how could, one of the largest pc manufacturer, Dell stay behind? Dell has released XPS 12 Convertible Touch Ultrabook (Also called as Dell XPS Duo 12).
XPS series is the premium line from the old and heavy Notebook days. In fact, I am writing this post from Dell XPS Laptop (I've been happy and content with my xps laptop. Everything works great in my lappy which has the backlit keyboard, 1080p screen, JBL sub-woofer equipped bold sound system, dedicated nVidia graphics card – All these make my laptop of the kind I need, but at the cost of heavy weight which makes not-so portable). Anyways, Let me stick to the topic and talk about the new Dell XPS 12 Convertible Touch Ultrabook instead of my laptop (I'll probably replace my laptop this year).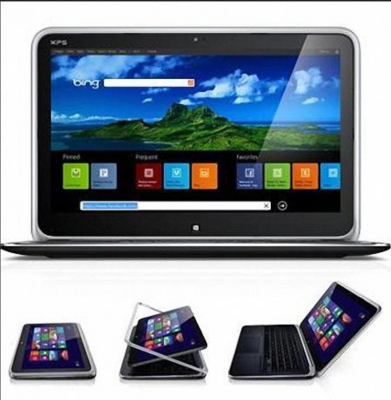 Looks and design do matter (Apple's Macbooks are manifestation of this fact). XPS 12 Convertible has unique premium design (not to mention, flexible). This ultrabook can be converted into tablet easily with fluid flip-and-fold motion i.e. the touch screen can be rotated to 180 degrees from the horizontal axis at the middle of the lid's frame. SO, just flip the screen and fold the lid and you get a tablet, and vice versa, you get ultrabook. We get similar functionality in Asus Taichi 21 but with dual-screen instead of flip-and-fold mechanism, unlike Dell XPS 12 here which has single screen that can be flipped to the other side. The thin frame around the screen is of metallic nature. This dell convertible features the same ruggedness, strength and premium features as found in any other xps models. Its outer body is combination of metal, aluminum, magnesium alloy and carbon fiber. The palm rest has soft finish which prevents scratches and fingerprints to make daring marks. It's a 12.5 inch tablet hybrid so the screen size feels little over-sized for a tablet and so does its weight which is about 3.35 pounds(1.52Kg). The screen size and weight makes it ultrabook first and a tablet later.
The backlit keyboard has rounded-at-corners keys that feel easy to type. The function keys located at the top are of half the size of regular keys. The trackpad, or say clickpad, is buttonless and works smoothly even with Windows 8 gestures.
Dell XPS 12 Convertible Ultrabook Specification
The display is multi-touch screen supporting 10-points of simultaneous touch. What's gorgeous about this display is the number of pixels packed in such screen size i.e. the display is Full HD 1080p with resolution of 1920*1080. If this is something to crave for, let me add to that, the brightness is dazzling 400-nit which give you wide-viewing angle and great legibility outdoors or in bright environment. So, the display is strong selling point of this dell ultrabook convertible.
Now, lets talk about its performance capabilities.
It comes with 2 processor options i.e. 3rd generation Intel Core i5 3317U (3M, upto 2.6GHz) and Intel Core i7 3517U (4M, up to 3.0GHz). So the presence of latest intel core processors make this a good performer ultrabook. Intel HD 4000 for graphics processing.
Mobile Intel QS77 Express Chipset (Same Mobo is present in other competing products like Asus Taichi 21)
 Choice for 4 or 8 GB of DDR3 RAM (Dual channel, 1600MHz). This makes this tablet hybrid powerful than android tablets and iPad (You can expect awesome hardware configuration in a windows tablet convertible only as per the current scenario as opposed to Android, iOS).
12.5 inch multi-touch FHD 1080p display with Gorilla Glass coating
Choice of 128 GB or 256 GB SSD storage capacity. (SD card slot is not present)
1.3MP webcam with Dual digital-array microphone inbuillt.
Realtek Audio (Don't expect presence of awesome sound-blasting speakers, woofers as was the case with old xps notebooks).
Two USB 3.0 ports (1 has support for PowerShell and windows debugging).
1 mini-display port
1 headphone/mic combo port
Intel Centrino Advanced-N 6235 802.11 a/g/n WiFi
Bluetooth 3.0 (Surprising that Bluetooth 4.0 is not integrated here)
Backlit chiclet keyboard (The backlit illumination can be turned off and on as desired)
47Whr, 6-cell lithium ion battery (The battery backup is not good. As per the tests, the battery drains out within 5-hours of continuous video-playback)
Windows 8 64-bit OS.
Dell XPS 12 Convertible Touch Ultrabook Price, Release Date
The price of Dell XPS 12 ultrabook convertible starts from $1199 (US) or Rs.89,990 (India) for core i5 model with 128GB storage capacity. All the configurable variants can be purchased either online from official Dell website or from retail stores because these have been officially released and launched in several markets worldwide. Here, we list the price of all Dell XPS 12 ultrabook convertible models with their price in US and India. The differences in specification is also listed along with the price (Rest of the specs are similar in all models).
Base Model (Core i5 and 128 GB SSD) for $1199 (US) | Rs.89,990 (India)
XPS 12 Model with Core i5 and 256 GB SSD for $1499 | Rs.1,03,990 (India)
Variant with Core i7 processor and 128 GB SSD for $1399  | Rs.1,00,990
XPS 12 Convertible Ultrabook with Core i7 and 256GB SSD for $1699  | Rs. 1,09,990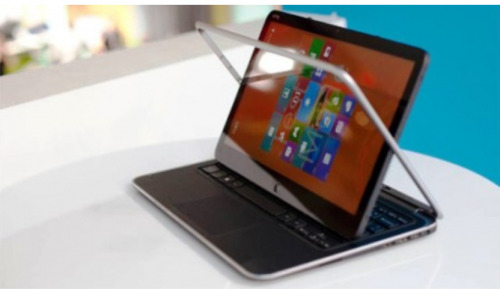 Should you buy Dell XPS 12 Convertible Touch Ultrabook ?
Now, the question is whether you should buy Dell XPS 12 convertible ultrabook or not ?
Yes, if you want : (Pro)
powerful ultrabook convertible that works more as ultrabook and can be used as tablet also although occasionally.
Full HD display with immense brightness
Expensive premium device
No if you want: (Cons)
light-weight tablet convertible
reasonably priced or medium-budget tablet hybrid
more of the tablet with option to use it as full-fledged ultrabook
To see how it stands against competitor, check other products like Asus Taichi 21, Samsung Windows 8 Tablet Hybrid, Microsoft Surface Pro . What do you think of this Dell windows 8 tablet hybrid? Do you want to get one? Share your views in comments. If confused, don't hesitate to ask, we'll help you make your buying decision easy by presenting thorough analysis and reviews.