I'm used to typing on my dell xps laptop and its keyboard is really very ergonomic, noiseless, soft, and typing on it is really enjoyable. Hence, I was looking for reasonably priced wireless keyboard mouse combo. Finally, I ended up with Dell KM632 for about 2000 rupees (INR). It has chiclet-style keyboard which looks appealing, though not sexy like Apple keyboard. Here goes its unboxing and full review:
Inside the package (Unboxing):
Wireless keyboard
Wireless mouse
Four AA Duracell batteries
usb receiver (mini-size)
User manual demonstrating how to setup the keyboard, safety manual, dell terms and conditions paper.
Review
The keyboard is full-sized with numeric keypad. The four arrow keys are together in its dedicated section left to numeric keypad. Six multimedia buttons (three for volume – mute, volume up, volume down; three for playback – play/pause, previous, next) are also located left to numeric keypad. The last row keys including shift, alt, space, win, etc, are larger in size than the rest of the keys. Capslock key is there but numlock key is not present on this keyboard.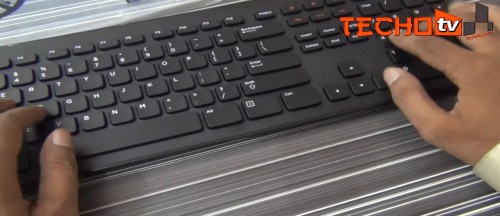 As is the case with every new keyboard, you won't like it very much at first, but as you spend more time with it, it starts to feel comfortable. The experience after one month of usage is ok. The keys are soft to press and reasonably sized. They don't make noise if you type slow i.e. they are not noiseless! If you type faster, you'll hear keys making their own mechanical sound due to keypress. The spacebar is easy to press as well, unlike in some of the keyboards where spacebar makes more noise and are not so soft to press. There are no numlock or capslock light indicators, which is really disappointing. There are no computer power buttons except sleep button on the keyboard. It houses two AA batteries. It also has power of/off button for the keyboard to save battery power if the keyboard is not in use for few weeks. This is not a flat keyboard as the upper portion of the back is elevated. This doesn't provide any ergonomic discomfort though. Separate arrow keys section will not disappoint gamers as well.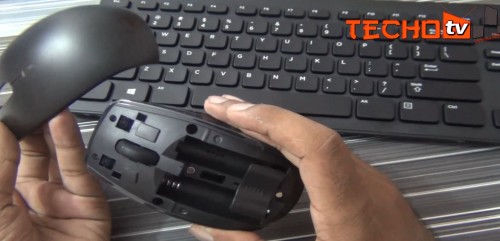 The wireless mouse is bit tricky here. Its upper cover can be easily detached. I didn't like the mechanism. If the mouse falls by accident, the upper cover is going to be scattered first of all. The mouse also houses two AA batteries making the mouse heavy. It also have on/off button to save its battery if you don't intend to use to for longer periods, say a few weeks. It is big in size. Ergonomically, mouse is not well-designed as well. In terms of usage, I am not satisfied with it. It doesn't work satisfactorily with the apps that require precision. If you do a lot of photoshop work or gaming, this mouse is certainly not for you.
Pros :
Keys are soft
Full Sized keyboard with separate arrow keys section, dedicated multimedia buttons for volume and playback controls which work out of box without requiring any kind of software installation.
Spacebar key is also easy to press and doesn't make more noise like some other keyboards.
Wireless reception of the receiver is good. I didn't notice any kind of delay in keyboard mouse operation.
Longer battery life with dedicated on/off button built in keyboard as well as in mouse.
Free 4 AA Duracell batteries inside the package.
Chiclet style keyboard.
Build quality of keyboard is good.
Cons:
No numlock key
No capslock, numlock light indicator
Keys are not noiseless
Mouse is not ergonomic.
Mouse operation is not satisfactory especially in such apps which require precision or more drag-drop action, like in photoshop or gaming.
It is chiclet style keyboard but do not expect the same feel, ease, softness, noiseless experience that you get from high-end laptop's inbuilt keyboard.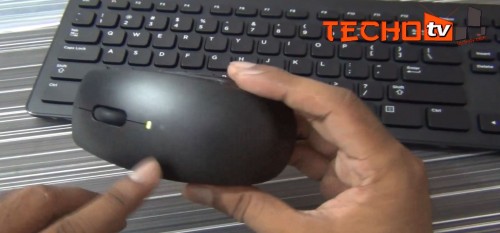 In fact, I can go on to say that the mouse makes my point of buying wireless keyboard mouse combo useless. I can get good standalone wireless keyboard and separate mouse as there are lots of choices available in my budget, but I wanted combo to save usb port. There are very less choices available in combo segment reasonable pricing which could meet all my expectations, and this combo certainly didn't appeal to me (esp. because of the mouse part).
Rating:
For keyboard – 3.6/5
For Mouse: 2/5