Delhi Metro is lifeline of Delhi. For daily commuters, they need no help; but tourists or those who are new, certainly need assistance to understand the route maps, platform directions, station gates. Even for daily commuters, home to work and vice-versa is easy; but when they have to make journey to irregular routes, they feel in need of help. To rescue, DMRC has officially launched Delhi Metro Rail app for android smartphones. This app will be very beneficial for Delhiites as this will allow users to get Delhi metro trains status, timings, nearest metro stations, fares, route maps and more. Here are some of the salient features of Delhi Metro Rail android app: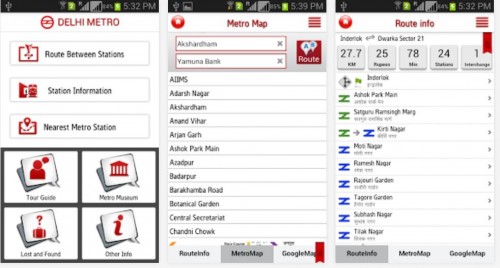 Can be installed on all android smartphones.
Contains updated train timings, status.
uses phone's GPS to locate the nearest metro station on map.
Shows routes map, calculates total fares, approximate travel time, etc.

Gives station info, first and last train timings, platform details, gates and directions, contact numbers.

Also contains other sections for parking, feeder services, tour guide, metro mueseum, lost and found, etc.
Also contain DMRC helpline number for assistance, complaints, feedback, etc.
Security helpline number is also there which can be used in case of threats, emergencies, etc.
For Delhi Metro commuters, this app is very valuable.
Download Delhi Metro Rail app for android from Google Play Store here
For iPhones, third-party apps are available.