Facing this error when trying to install specific app from Google Play Store – "Can't install to usb storage or sd card!"? Well, even I started getting this problem lately with few apps (like, Tom Cat 2 Free, Opera Mobile browser, etc) on my galaxy s2 phone, so I started researching on the web and found out that I was not alone. This problem is being faced by other users of other handsets as well, not just of Samsung, but also of HTC. It appears as if the problem is of android and certain apps installation procedures, rather than of any particular manufacturer. This error is seen on Android GingerBread, ICS as well as on Jelly Bean OS. I also observed that this problem is faced mostly be users with custom ROM or custom kernel rather than the stock one.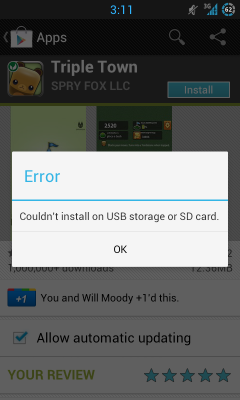 How to fix – Couldn't install to USB Storage or SD Card Android Error
Method 1:
Go to phone settings and then to storage options
Unmount SD Card.
Go to Google Play Store
Download and install the app which used to throw the error.
After the app is successfully installed, again go back to phone settings and then storage and then mount sd card.
Done
Method 2:
If the method 1 doesn't work for some reason, try this one, but it requires root permission:
Install file manager like ES File Explorer, ASTRO or any other such full-fledged file manager for android phone.
Go to root of the device and then to /mnt/secure/asec/ and delete all .asec files that are present there.
Also go to /sdcard/.android_secure (hidden folder) and delete .asec files if any from there as well.