Increased smartphone usage and high speed 3G data access have resulted in high data consumption behavior among consumers. This might further cause expensive billing once our data pack turns empty or validity expires. Hence, periodically checking remaining net balance is necessary otherwise you might wake up one day to find that all your talktime balance is gone because your smartphone (likely android) was automatically updating all those installed apps while you were sleeping. Such incidents have occured with few of my friends. That's why I'm writing this post so that my fellow readers shouldn't face similar issues. I've already written about how to check aircel 3g balance, airtel 2g/3g data.
In this post, I'll share with you info on how to check remaining balance and validity of Vodafone 3G data packs or 2G gprs net pack. For most of account related queries, self service vodafone ussd code is *111#. This works for both prepaid as well as postpaid vodafone number. Upon dialing this ussd code, you'll receive a list of menu on your phone and then you could respond accordingly to find more details about your vodafone no, like data plan, vas services, bill details in case of postpaid, etc. Prepaid gsm users can choose data plan option in *111# menu whereas postpaid users could choose internet plan details option to check complete details about Vodafone data packs/plans and validity.
Dial *111*6# and then proceed as per the instruction. If this doesn't work then dial, *111*6*2#. These ussd codes will tell you both vodafone 3g data balance as well as 2g gprs net balance validity.
You could also send sms DATA BAL to 144 to find out remaining internet balance on your Vodafone number. These sms/ussd codes should also work for data card.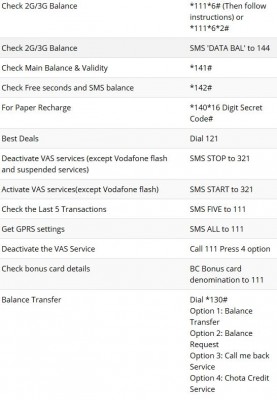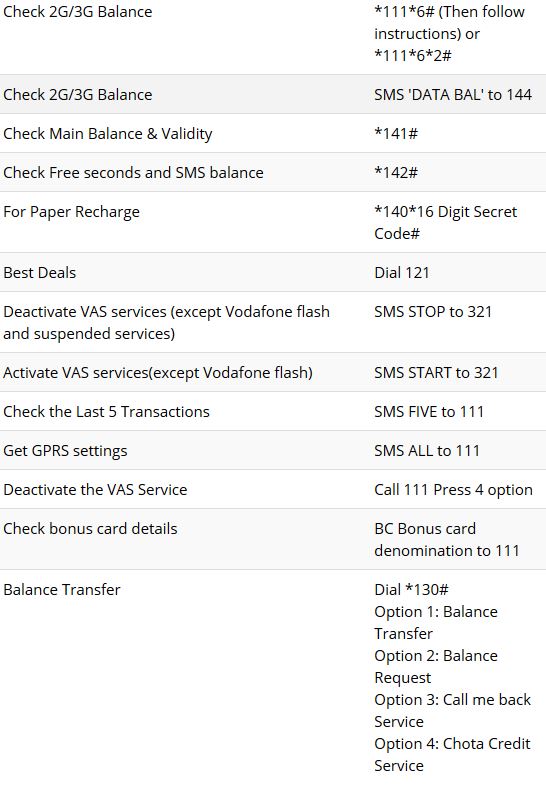 If the given ussd or sms codes do not work, repy to us in comment section along with your circle/location detail and we'll try to find the appropriate way that works fine in your circle.