Aircel has lucrative data plans and packs, several of which are 3g packs with fup i.e. high speed limited 3g data with unlimited low-speed 2g data. For example, 198rs 3g data pack gives 1gb of 3g data and unlimited 2G data with validity of 30 days. Likewise, the highest plan of 997rs gives users 10GB high speed 3g net balance with unlimited low speed 2g data. See the tablet given below for the details of common high speed net packs available in Aircel.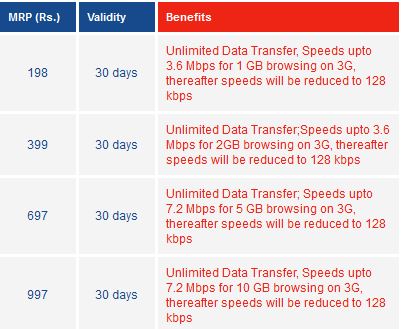 Keeping track of your 3g data usage and the remaining balance helps maintain usage control so as to avoid wastage of expensive bandwith. Here, in this post, we'll see how to find remaining 3G data balance on our aircel number and its validity:
Dial *130# and it will show you both 3G+2G data net balance.
 

Use this as alternative if the code mentioned above doesn't work

as this code might give you wrong info sometimes (from personal experience ). Dial *122*122# from your aircel mobile number. This is mainly for checking remaining data balance of unlimited plan
This also works from data card, just use the USSD option of the data card software.
If the code given in 1st/2nd point doesn't work, you also try *122*011#  or *111*9# or *111*10# or *126*6#
If the above codes don't work for you, there might be some temporary issues on operator side, or you might not have any 3G data balance left on your number. If you're certain that there is 3G data available on your number, but the above code doesn't show the same, you can comment here with your region info and we'll try to get you your answer. We've also wrote about how to find own aircel number via ussd code.