Update: Samsung Galaxy Note II phone is officially released and is available for purchase at price of Rs.39,990 in India. +1 to us as Techotv expectation/guess for the phone was about Rs.40,000 as given below which is approximately equal to the original price revealed above. Exclusive launch offer of free bluetooth headset with every purchase on this phone on Samsung eStore. Pre-booking orders will get free desktop dock instead of bluetooth headset.
If you've been waiting desperately to get your hands on the biggest smartphone i.e. Samsung Galaxy Note 2 which is 5.5 inch big and contains top of the line hardware specification for amazing speed and performance, your wait is almost over as you can pre-order Samsung Galaxy Note 2 from Samsung India Estore Online for Rs.5,000 (The given price is the advance booking price and not the price of the actual handset). With pre-booking, customers are entitled to a free desktop dock worth Rs.2,399. The available color choice is Grey and White. The actual price of Galaxy Note 2 in India is not revealed yet, likely to be revealed on September 27 press event of Samsung India at Hyderabad. We expect the price to be around Rs.40,000. As usual there are certain terms and conditions of pre-booking which you must make note of. For reference, we've listed important points here :
The price for pre-order is Rs.5,000 for which you'll be issued a e-coupon worth the same amount which has to be redeemed when the product is available in stock. Rs.5000 will be adjusted in the actual invoice of the phone when buying.
You'll be notified via email when the stock is actually available.
If you buy Samsung Galaxy Note 2 phone within 3 days of actual stock availability, then only you're eligible for free desktop dock.
The issued e-coupon worth Rs.5000 will be valid for upto 15 days from the product launch date. The coupon can not be redeemed to buy any other Samsung product or mobile. Also, the coupon is non-refundable.
Pre-booking once made, can not be cancelled.
The link for Samsung Galaxy note 2 pre-booking is here . Just visit this link of official Samsung India eStore, create your account and make payment.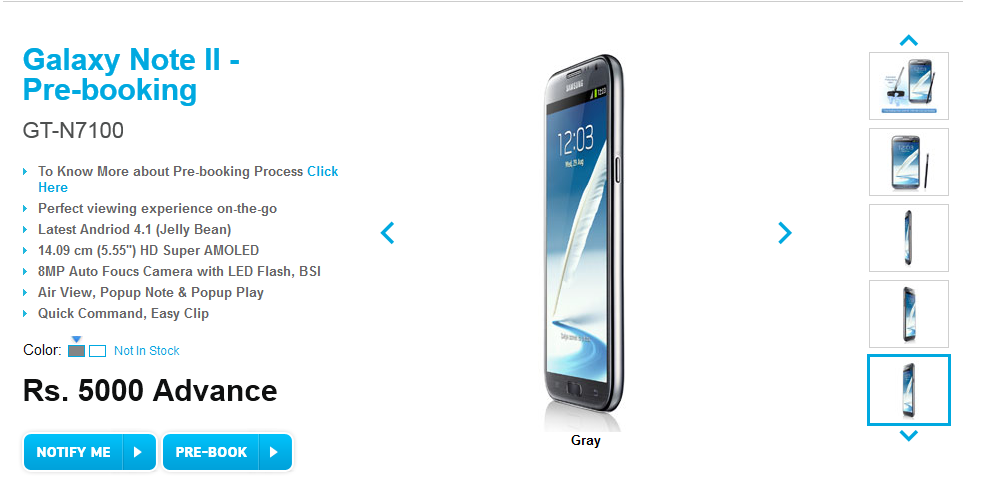 These are the most important t & c applicable to pre-booking made on Samsung India eStore. Galaxy Note 2 Smartphone features enhanced S Pen, improved handwriting and note making capabilities, smart stay, direct call, screen recorder and several other features. It has 1.6 GHz quad-core processor, 2GB of RAM, 16 GB of inbuilt storage and support of upto 64GB external memory card. For more details, check out Samsung Galaxy Note 2 Reviews . So, are you going to buy this phone now or wait for few months for the price to go down (which happens often with Samsung Mobiles – at the time of writing this post, Samsung Galaxy S3 is selling at about Rs.34,900 or little lower which is much less than the launch price which was Rs.42000-43,000 where as the best buy price was Rs.38,900 at that time i.e. when released in May.)