Maxbhi.com is a fraudulent website that claims to provide quality products (smartphone spare parts like, display, touch, camera module, etc.) to its customers, but in reality, it's just a front for a complete fraud. I had the unfortunate experience of ordering a Vivo Nex replacement display from them (since it was not available on trusted e-commerce website like Amazon and Flipkart) and received an empty box instead. It was fully sealed, as if they were mocking me to open it, only to find nothing inside. Yes, you read that right. They sent me an empty box that was fully sealed and had no signs of tampering. When I opened it, I found nothing but air inside.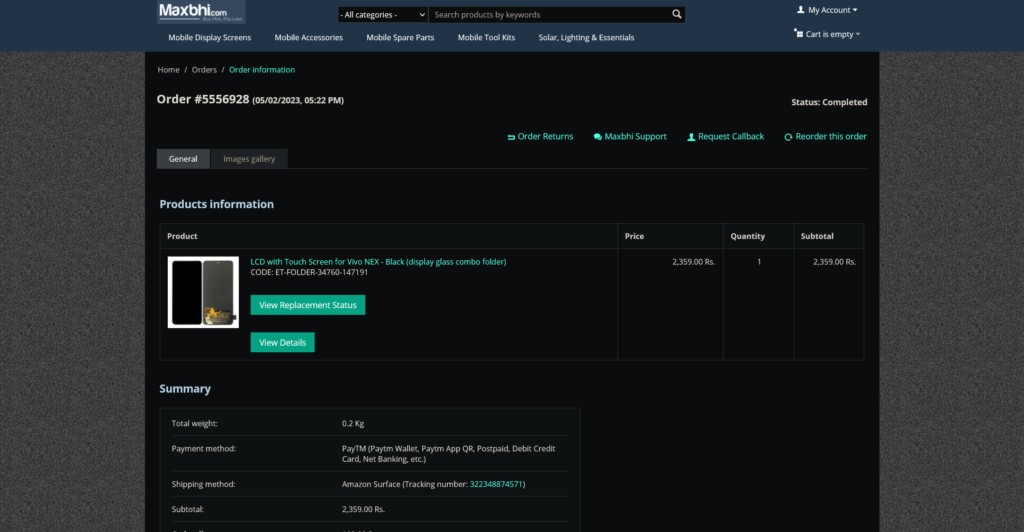 Naturally, I contacted maxbhi.com to complain about the issue immediately, and instead of investigating the issue, they refused to take any responsibility. They cited their impossible warranty terms and conditions, which stated that I should have opened the box and checked the product upon delivery in front of delivery agent. But the delivery agent refused to let me do so since it was not open-box delivery, leaving me with an empty box and a sinking feeling in my stomach.
I had previously ordered from maxbhi.com, and my first order was fulfilled correctly. But after this experience, I realized that ordering from them was a complete hit and miss. You could either receive your order as expected, or you could receive an empty box and be left with a hole in your pocket.
What's even more ironic is that the item I ordered only costed around Rs. 2359, which is a relatively small amount. But maxbhi.com still resorted to cheating instead of compensating me for their mistake. Unlike other e-commerce websites that take responsibility for missing items and compensate their customers, maxbhi.com operates in an unprofessional and dishonest manner. It's a classic example of penny-wise and pound-foolish. I tried to threaten them that I'd go public and expose their fraud to which they responded by asking me to wait for approx 2 weeks so that they could work on my issue but it was just an excuse. After several days of back and forth, they refused to take my complaint seriously and closed my complaint without any resolution. Later, I researched on the internet and found hundreds of complaints against them from furious customers who have been cheated by them in one way or another. Some people had received defective or wrong products, some had received incomplete or damaged products, some had received no products at all. So, this is not new for them.
If you're thinking about ordering from maxbhi.com, don't waste your time and money. They are a complete fraud, and their impossible warranty terms and conditions are just an excuse to avoid taking responsibility for their mistakes. Ordering from them is like playing Russian roulette – you might get lucky, or you might be left with an empty box and a sense of betrayal.
My experience with maxbhi.com was not just horrifying but also a complete joke. I wouldn't recommend this website to my worst enemy, let alone someone looking for a reliable online shopping experience. It is not worth risking your money on a website that cannot guarantee the delivery of the product you ordered. Maxbhi.com is a fraudulent website that operates in an unprofessional manner and should be avoided. Stay away from maxbhi.com if you value your money and sanity.
I have decided to share my story with others so that they can be aware of the scam that maxbhi.com website is running. I also wanted to warn others not to fall for their fake positive reviews and ratings. They are just a way to lure unsuspecting customers into their trap. I hope that by sharing my experience, I can save someone else from the same fate that I faced. I also hope that maxbhi.com website will be exposed and punished for their fraudulent activities. They should not be allowed to operate and cheat more people.
I urge everyone who is reading this article to avoid maxbhi.com website at all costs. They are not a reliable or trustworthy online store for mobile parts and accessories. They are a real fraud that will take your money and give you nothing in return. Thank you for reading my article. Please share it with your friends and family so that they can be aware of this scam too.