There are many kinds of games on play store, great app developers have taken many of the games that we play physically, offline and made them digital, online. Though, the experience of playing cricket, football, table tennis, etc on the field can't be matched online, the online experience of playing these outdoor games is quite different and is a class of its own and let's say, it has nothing to do with their offline version, strictly speaking, we can say these online digital games are completely different, the rules are the same, the names may be the same, but the experience and skill-sets are entirely different. But, this post is not about that comparison; rather this post is about the app that we developed for entertainment purpose, the gaming kind of experience that this app provides can be best experienced in digital form online. The app is Guess My Choice. As is evident from the name, it is guessing game to be played by two or more people online. Call this post – a short of introduction, or a review by the chief app developer himself in his own words as this app arose out of personal needs, a need to develop a deeper understanding of each-other among friends, relationships.

Inside into the minds of "Guess My Choice" App developers- Goal behind its making
And yes, we developed it, and we developed it for a reason. Sometimes, despite plethora of fun and entertainment android apps available, we get bored. So, we thought, what better way to get rid of boredom, than to play some game or to get some sort of entertainment. So, we thought of creating a game to provide this experience. However, we fixed some goals to achieve during that process. Most of the smartphone apps provide great experience, yet distance you from near and dear ones. We thought, we wanna handle this shortcoming. We don't wanna design something such that two people using either in the same room or separated by miles of distance, get distancing experience. We wanted to build an app that could connect people more and that's how we stumbled onto the idea of this app. Here is what we thought while building this app: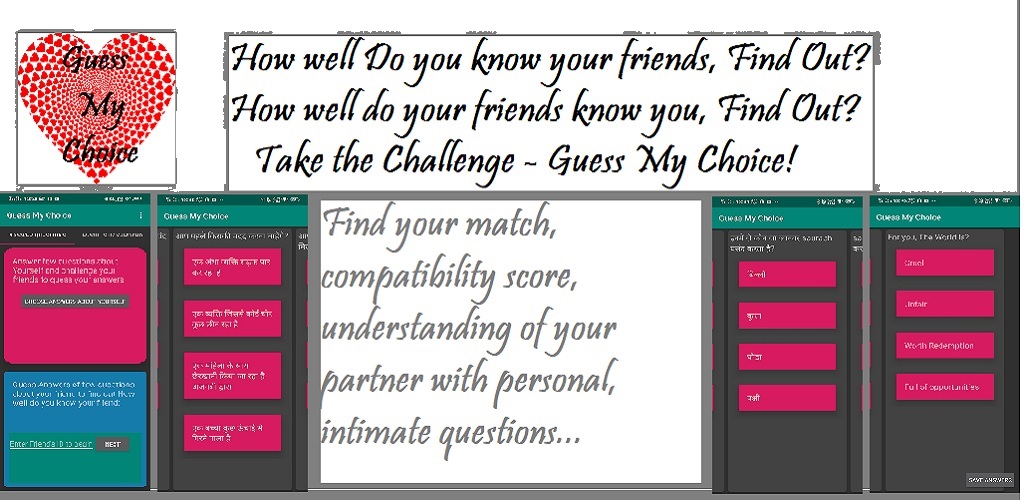 A fun app that could connect people together instead of distancing them.
An app that could make people delve deeper into their lives, lifestyle, choices.
An app that is engaging enough to make you use your brains.
An app that you could play with your friends, brothers, sisters, boyfriend, girlfriend, husband, wife and other relatives- relationships.
An app that even your parents and grandparents could play easily.
How well do You know Your Friend, or, How well does Your Friend know You?
With these goals listed above, we created Guess my Choice app. The theme of this app is – How well do you know your friend, or how well does your friend know you! The questions that user has to answer or guess are designed in such a way that the user puts his deep thinking in practice while answering, and uses his understanding of his friends to test while guessing his friends answer. Yes, we achieved all the goals that we mentioned above. Here is how the app works:
How Guess My Choice App Works:
User answers few questions from one of the several Question-Sets about himself, his life choices, preferences, hobbies, personality, etc.
User shares his ID and/or link to as many friends as he wants to challenge.
His friends install this app and enter the ID to guess the answer of user.
And vice versa i.e. his friends can answer questions about themselves and then share their id …
The result i.e. the correct/incorrect guess is automatically sent to the user and his friends and saved in the app as well.
What makes this guessing game fun app more interesting?
And here is how it differs from the rest of crowd, because Play Store is huge and there are tons of app developers with established presence. We simply didn't wanna join that crowd, we either wanted to innovate completely anew, or improvise greatly upon existing ideas. This is how we did it:
We found that apps based on similar theme offer playing of the game on the same smartphone between two players, which means that the user needed to answer the same question set again and again. Also, the user needed to share his smartphone to his friend for the short time the friend needed to guess. In present age,

nobody wants to hand over their smartphone

, even for short. Hence we made it such that each user can answer or guess on their own smartphone whether they are in the same room or in a different country.
The result is shown both to the user and his friend who guessed the answers on their respective smartphones. Whenever a new friend guesses the answer of user, the user is notified of the same and the result is available and synced in the app on their phone. So, no cheating.
For hassle-free and ease of usage, we have streamlined everything in a neat flow and made all relevant features easily accessible. No need to login or anything.No need to remember passwords. Once id is created, the user needs to just share the id to their friends whenever they want to challenge them.
To keep the interaction going, we have made the app such that new question sets are added based on new categories of interest from time to time and are automatically available to all users of the app so that they can answer and challenge their friends and keep the fun going.
App development is ambitious, however, it takes a great deal of time and other resources. To support the development, monetary compensation is very essential. Instead of asking users to pay a fee upfront, we have gone with ad-supported app model, however, we have tried to place less and unobtrusive ads in the app wherever possible, so that it doesn't interfere or obstruct usage.
Download Best Guessing Game for Friends- Android app
Our ears are strained for your comments and reviews, including suggestions. Review us on play store, give suggestion via the app menu.