We've seen lots of windows 8 convertibles (notebook tablet hybrids), but none like the gorgeous Asus Taichi 21. What makes this full-fledged ultrabook, which can be used as tablet also, winsome is its dual-screen. Asus takes its chances to explore new form-factor, rather than just sticking with crowd, and Asus Taichi 21 is a fine example of this. Excited? You should be, let's see how and why: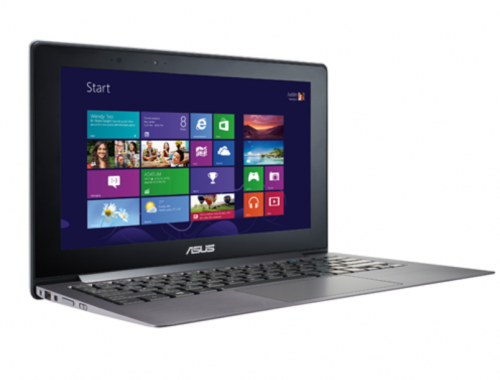 Dual Screen in Asus Taichi 21
The prime selling point of Asus Taichi 21 is presence of two display in it, one at the front of the ultrabook, other one at the back (lid) portion of the ultrabook. Both the display is Full HD i.e. 1080p sporting resolution of 1920*1080. The back display is 10-point multi-touch screen. Thanks to IPS display technology, the viewing angle is upto 178 degree. Just close the lid of ultrabook and you get a working tablet. The front screen is not touch screen because the front side is aimed to serve as regular notebook, but there is smart touchpad which supports touch screen gestures for windows 8. The two screens can work independently of each other i.e. two users can work together on this machine, one using keyboard and touchpad to control the device while the other user using touch screen as if a tablet is being used. There are four modes – Notebook mode, Tablet mode, Mirror mode if you want the front and the back screen to display the same content (useful if you're presenting something to client, you don't need an external monitor or you're not required to turn your laptop towards the client's side to give him/her demo on your laptop. Another fine example of this is, playing chess with you on one side of table and your friend on the opposite side – You both get to see the same screen of game separately.), Dual-screen mode if two users want to work on the same machine(You can launch one app on the front display while the other one at the rear display. You can interact with both the apps at the same time separately. This can also be used in case of presentation where you read the script and move the slides at the front while users sitting at the back just see presentation without the 'so-inside' work).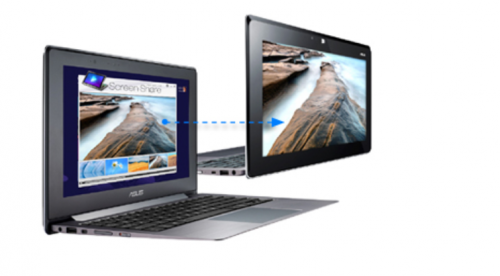 Asus Taichi 21 Specifications include :
It is powered by Intel 3rd generation core i7 processor (3517U) or i5 processor (3317U). The processor choice is upto you.
Its ground is powered by Intel QS77 Express motherboard chipset.
It has 4GB DDR3 1600 MHz RAM.
As expected, it doesn't have dedicated graphics card i.e. it utilizes integrated intel HD 4000 for graphics processing which is sufficient for most of basic needs.
It comes in two storage options i.e. 128 GB SSD or 256 GB SSD.
Two cameras: On the front, there is HD web camera, while at the rear i.e. tablet side, it has 5mp with Autofocus 1080p camera.
Two USB 3.0 ports are also present which makes it easy for you to connect computer peripherals.
1 Micro HDMI port, LAN Jack are also present.
Volume up/down, and Screen switch buttons are there.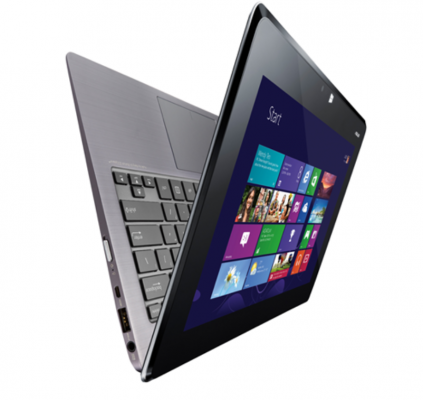 Switching between tablet and notebook mode is seamless. ASUS claims the sound to be of cinematic quality with SonicMaster audio technology, developed by Bang & Olufsen ICEpower. Moreover, array mic is there to promise noise suppression, echo cancellation so that you get the best call-clarity when using the device for communication purposes. It runs full windows 8 pro as already mentioned in the first paragraph of this article.
Asus Taichi 21 Price, Release Date, Availability
After reading about all Asus Taichi 21 has to offer, what do you think? Does the presence of dual-screen make this device viable for mainstream consumer? Well, I won't say much, but this surely stands out from the rest of the crowd. It weighs 1.25 Kg which is not light for a tablet (but not too heavy either, since it is running on intel corei5/i7 processors), but light for ultrabook. Asus Taichi 21 has already been released in several markets worldwide. The price of Asus Taichi 21 varies from market to market. It is selling currently with the starting price of $1300. For core i7 model with 256GB SSD, the price goes about $1600. (Note: The price is indicative and may vary from place to place, in some regions, the price is very high compared to the USD currency equivalent value).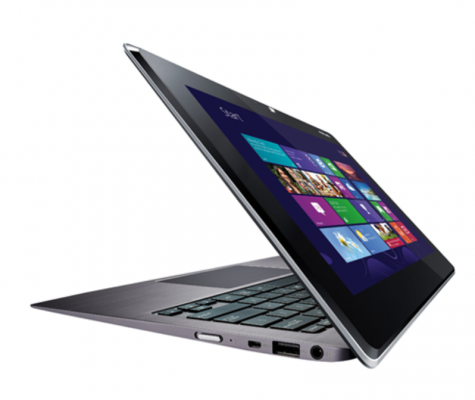 Who should buy Asus Tiachi 21 ?
The question here is not why you should buy it, or why not. The question is Who should? The dual screen may be overkill for general customers. There is no need to get a pricey ultrabook convertible with dual screens unless you really want it or you convince yourself that you need it in some way.
If you're business person (There are several ways in which Asus Taichi 21 could serve as a great ultrabook companion and a business-class tablet. Its unique make offers you several benefits in your business especially during presentation stuff).
If you're blogger, giving demo or video tutorials will be very easy for you. In fact, I want it as a blogger.
If you really want this because you find the dual-screen really appealing, unique, useful, maybe something to show off or stand apart from crowd.
Who Should not buy Asus Taichi 21 ?
if you don't find any special use of the dual-screen.
If you're home user i.e. you use it just for light computing.
If you just want a reasonably priced medium-budget tablet/ultrabook convertible.
If you want something lighter than this, or something which look more like a tablet, rather than ultrabook, like those tablet convertibles which has keyboard as dock/attachment rather than inbuilt.
I hope this article answers most of the confusion and help you reach to definite conclusion if you wanted to buy Asus Taichi 21. Have any questions, feel free to ask us via comments as we reply personally to every comments posted on our technology blog here. Also check out the Recommended posts section below to know more about other similar products.