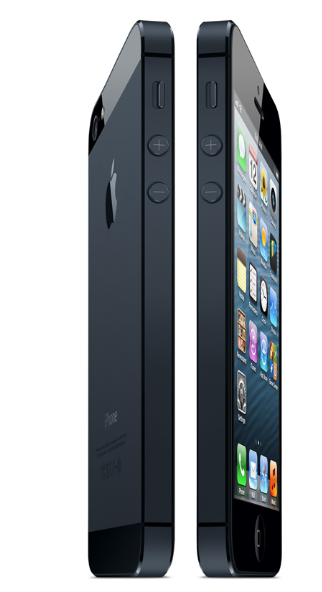 Evolution or Revolution, whatever it is, Apple did it again – They made catcall at their competition, they disappointed their neutral fans but they do paraded their iPhone-sworn fans to new level of delicacy, artistry, beauty and sophistication. The name is enough for the most – It is Apple iPhone 5. They know apple. They know the artistic vision with which Apple creates its products. They envision their views and they love it. So, Lets see what is so special about the new iPhone 5 which has been announced of late. As you proceed with this initial impression and as-is review of iPhone 5, you'll also find several images featuring the new Apple phone. Click on the images to view them in larger size to appreciate the beauty and design of iPhone 5.
Form Factor of iPhone 5 :
Being slim is being sexy when it comes to phone and so how could iPhone 5 stay away in this race of Miss Universe Phone! iPhone 5 proved that they do deserve the crown again and so gives you the light, cozy and ergonomic feel with thickness of 7.6mm (20 % less than iPhone 4S which is 9.3mm thick )and weight of just 112 grams ( 18 % less than iPhone 4s which weighs 140gm ). To this beauty adds the anodized aluminum body finish with glass inlays for better build quality and premium feel.

Display of iPhone 5 :
We wanted a bigger iPhone and for the first time, Apple paid heed to the craving requirements of its customers. They built iPhone 5 with 4 inch big screen, although even this size is quite smaller in comparison to the competition (Galaxy S3 has 4.8 inch display). It is, no doubt, retina display with higher resolution of 1136 x 640, pixel density of 326 ppi, without making the screen wider. You read it right, the screen is taller in iPhone 5 but not wider to account for single-handed operation. Furthermore, Full sRGB rendering increases color saturation by 44 % as claimed. The aspect ratio is claimed to be close to 16:9 (it is close, it is not upto it.) How does this compare to Nokia Lumia 920 PureMotion HD + display is yet to be examined.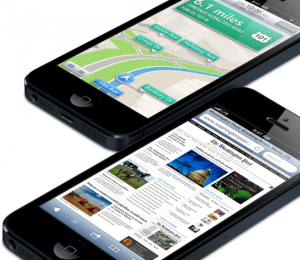 Processor and Graphics :
As usual, Apple doesn't tell you the exact specification of its processor like clocking speed or so. They just give you a name. iPhone 5 is powered by Apple A6 processor (Don't ask me whether it is single-core or dual-core but it is better than the dual core A5 processor housed in iPhone 4s). The new processor and graphics chip in iPhone 5, as Apple claims, is twice the faster and snappier than the previous version. This gives the power, speed and control that a customer demands from its phone. Be it loading of webpages, launching of new apps or gaming on iPhone 5, everything would just be kind of breezy experience.
Apple iPhone 5 Camera :
If anything other than calling, iphone users do, they snap photos. So, producing a better camera with each generation of iPhone has been a tradition in the development of iPhone. iPhone 5 comes with a better, improved 8 megapixel iSight camera which is claimed to work well in low-light conditions as well. Beside improving the shutter speed, iSight camera of iPhone 5 is now 25% smaller than iPhone 4s camera. It also supports panorama mode. 1080p video recording is improved with enhanced stabilization and the ability to take still photos while recording. The new FaceTime camera or the front camera now records 720p video and captures 1.2 megapixel photos, and is improved substantially for a clearer facetime video-calls experience.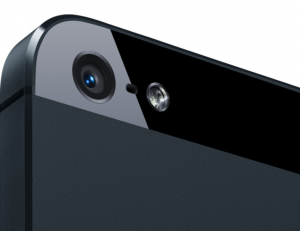 Connectivity :
Apple iPhone 5 supports 4G LTE in addition to HSPA+ and DC-HSDPA. Touting single-radio based LTE technology along with support for dual-band 802.11n Wi-Fi for speed of upto 150mbps, Apple claims iPhone 5 to be the most efficient iPhone ever with support for such ultra fast wireless standards. The microphone received major upgrade with 5 magnet transducer for clearer call quality on networks which support this wideband audio technology.
iPhone 5 Battery :
iPhone 5 battery is certainly claimed to be efficient and better. Max 10 hours of continuous wifi-browsing or video-watching or 8 hours of LTE browsing or 3G talktime on full charge is what iPhone 5 can run along for. 225 hours of standby, audio listening of 40 hours. The promised battery backup varies based on network strength, device usage pattern and other conditions.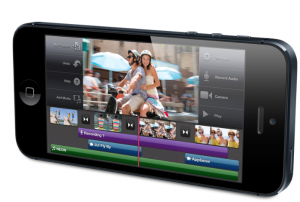 iPhone 5 Software :
iOS 6 is there in iPhone 5 with various changes and more than 200 new features. A new Apple Maps app with turn-by-turn navigation support, Facebook integration with contacts and calendar, new and improved Siri, deeper social integration with ability to post directly from notification center, passbook for all your passes in one place, etc. More languages support and shared photo stream via iCloud. Several other changes and improvement with iOS 6.
Apple iPhone 5 Price and Availability :
iPhone 5 is available in dual tone in two color variants – 1. white & silver 2. Black and slate.
Price for iPhone 5 16 Gb : $199 (US)
Price for 32 GB iPhone 5 : $299 (US)
Price of 64 GB iPhone 5: $399 (US)
iPhone 5 will be available in the US, Australia, Canada, France, Germany, Hong Kong, Japan, Singapore and the UK on Friday, September 21, and customers can pre-order their iPhone 5 beginning Friday, September 14. iPhone 5 will roll out worldwide to 22 more countries on September 28, including Austria, Belgium, Czech Republic, Denmark, Estonia, Finland, Hungary, Ireland, Italy, Liechtenstein, Lithuania, Luxembourg, Netherlands, New Zealand, Norway, Poland, Portugal, Slovakia, Slovenia, Spain, Sweden and Switzerland.
As usual, No iPhone 5 launch is confirmed for India.
Other Features
A new connector called as Lightning connector which is reversible so you can use it from both sides. The lightning-to-30-pin adapter is to sold separately for old legacy 30-pin based accessories.
A new Apple EarPods which fits very nicely in your ears and is considered to be parallel to high-end earphones with tune-to-heart quality sound.(Yet to be tested whether the hype is real)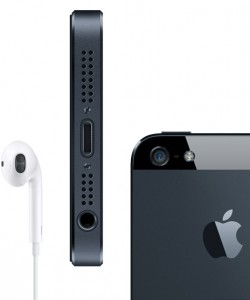 Techotv Rating for Apple iPhone 5 : 4.3/5
Apple iPhone 5 is worthy indicator of Apple's coming forward to embrace current generation's aspiration but it is still proprietary device with closed ecosystem. It's not a phone, it's iPhone.
Full Specifications of Apple iPhone 5
Screen Size of 4 inch (10.16 cm).
Display Resolution: 1136x640
Display Type: , capacitive, LED-backlit IPS, Gorilla Glass protection
CPU: Dual-core 1.2 processor
There is 1GB RAM.
It comes with internal memory of 16/32/64 GB models.
WiFi- Wi-Fi 802.11 a/b/g/n
Primary Camera at the rear: 8 megapixel
Front-facing camera- Yes, 1.3mp
Out of box, it is loaded with iOS 6.
Battery Juice of 1440 mAh.
More here: Apple iPhone 5 Full Specification, price