At october 23rd event, iPad Mini was not just the star of the show but also the new iPad called as 4th generation iPad (Officially named as so, not as iPad 4, but for the sake of convenience, we'd refer it as ipad 4 in this article), which is iteration of the current iPad but with better processor-graphics chips along with few other improvements in hardware. iPad Mini was long-rumored but nobody had expected anything about the next generation of iPad revelation, so this was a complete surprise, indeed good one.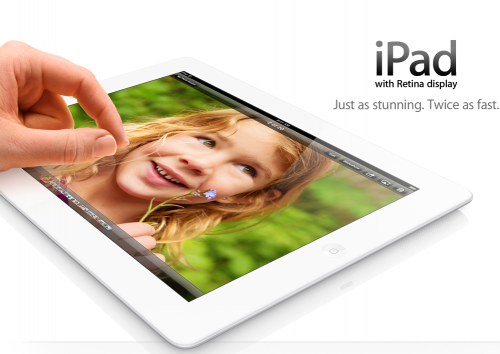 iPad 4 Specification
iPad 4th gen has apple-designed A6X chip which boasts of twice the cpu and graphics performance than the current A5x chip. This means that the new iPad is much more powerful and provides more power in the hands of users as well as iOS developers to harness the full potential of this improved capacity. This established Apple's dominance in tablet market in near future as well since its current hardware reads along the line of time. Aside from the processor, iPad 4 has improved FaceTime HD camera at the front along with new dedicated image processor. It has also incorporated dual-band 802.11 a/b/g/n WiFi which gives you twice the speed than that offered by previous models of iPad. Also, it includes support for more LTE carriers worldwide. Not to mention the new reversible lightning connector support inbuilt in 4th generation iPad so that you could connect newer accessories based on lightning connector. Taking note of improvements in technical specifications of iPad 4th generation, increase in price seemed evident but Apple didn't take the idea of price increase.
iPad 4 Price, Release date
Celebrating successful sales of iPad which has summed over 100 million units, pricing  of iPad 4 remains same as its predecessor, with a 16GB WiFi only model costing $499 and a 16GB model with WiFi+4G LTE cellular data capabilities on board costing $629 (US). The color choices didn't increase. The new iPad with hardware refresh is really enticing for new buyers but those buyers, who have bought iPad 3 few days ago, might feel remorse with the current announcement since there is no exchange program in place; but let me remind you – there is 14-days money-back program and if you happen to have purchased 3rd gen iPad, you can safely approach the store for replacement. Some Apple retail stores are offering exchange for iPad purchased within 30 days, so inquire from your nearest Apple store regarding the same, you might be in luck. if you're buying a new iPad, make sure you're getting iPad 4th generation model which starts selling from November 2, 2012 in retail stores, you can also pre-order it from Apple's online store.
iPad 4 price in India
16GB Wi-Fi only – Rs. 31,900
The 32GB priced at Rs 37,900
64Gb model at Rs 43,900.
The price of Wi-Fi+3G variants are set at Rs 39,900, Rs 45,900 and Rs 51,900 respectively for 16, 32 and 64 GB versions.
iPad Mini VS iPad 4th Generation
We've listed prime differences between the two size variants of Apple's tablet below:
| | | |
| --- | --- | --- |
| Difference Criteria | iPad Mini | iPad 4th Generation |
| Display | 7.9 inch | 9.7 inch |
| Resolution | 1024*768 | 2048*1536 |
| Pixel Density | 163ppi | 264ppi |
| Width | 7.87 inch | 9.49 inch |
| Height | 5.3inch | 7.31 inch |
| Thickness | 7.2mm | 9.4mm |
| Weight Wifi, WiFi+Cellular model | 308 gram (0.68 pounds), 312gm (0.69 pounds) | 652 gram (1.44 pounds), 662 gram (1.46 pounds) |
| Price for Wifi, WiFi + 4G model | $329 USD, $459 | $499 (US), $629 |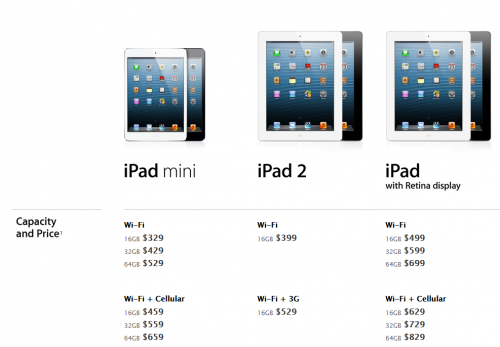 Like us on Facebook to get more updates and news about Apple and latest gadget launches. So, which one is your next buy? The main difficulty these days is the naming of these Apple devices because the name is not precisely numbered indicating its release. It appears vague, for example Apple launched 3rd generation iPad with the name – The New iPad. Likewise, the new Macbook Pro is launched with the name – 13 inch Macbook Pro with Retina Display.