After the new iPad with Retina Display which is considered as iPad 4th generation, everyone's eager to hatch out more details about what might be revealed by the cupertino giant, Apple. Latest rumors have already raised expectation for 128GB iPad model. As per the the new SKU and inside info recieved by 9to5Mac, 128GB iPad model is in the pipeline suggesting price of 100$ increase over the current price of 64GB iPad model. Hence, the suggested retail price of iPad 128GB WiFi only version would be $799 USD, whereas iPad 128GB Cellular model will cost about $929 USD. Some experts disapprove of this rumor outright in context of Apple's move and impact on cloud services, but we think of possibility of 128GB iPad model and we think that cloud services couldn't be forced upon the users by not launching higher storage models, and Apple does understand that. Also, as the technology is moving forward, high-definition media content with growing filesize is being readily made available, in context of these growing developments, 128GB iPad makes more sense. Also, since we've windows 8 tablet hybrid models boasting of higher storage space. So, to stand atop, Apple might have decidedly be in favor of this new storage variant. Update: 128GB iPad model is officially released and it will be available for sale from February.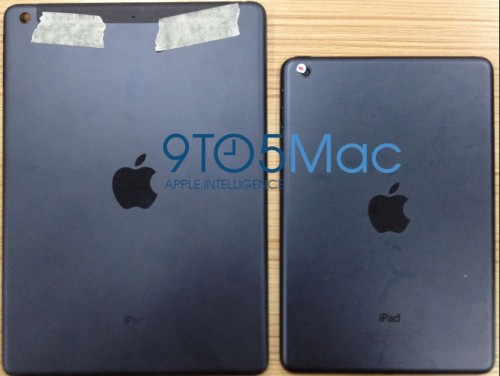 So, a high storage variant of iPad is not the only info we've here. 9to5Mac has just posted few images of the supposed iPad 5th generation. The images reveal the back side of iPad 5. It looks like bigger variant of iPad Mini. Although, in the given image, you can observe smudged iPad print, yet this doesn't give us strength to reject this rumor at once. Inheriting the design elements from iPad Mini, from the back panel image of the iPad 5, we can see thinner iPad 5 with less bezel, chamefered edges. The images have been sourced from iPad accessory maker. In the past also, we've seen received design rumors and leaks notes, so this makes the current rumor more believable. Apple is also working hard on a major update to iOS. Lately, we've reported that Apple released iOS 6.1 for current users of Apple's devices. It's likely that Apple will debut with New iOS version on the next upcoming iPad tablet. We hope Apple doesn't introduce unfinished product like Apple Maps as that fiasco brought heavy lashes on Apple's back.
Earlier, we've written about Apple iPhone 5s. We also expect that the next iPad mini could be new iPad Mini with retina display. What if these reported rumors about Apple's devices turn out true? Are you happy with the design? Post your views in comments!