In this tutorial, I'll show you how to make more productive use of 1080p display to gain more screen estate on Galaxy S4. On pc, if we change screen resolution, we get virtually more screen estate as the text and all other contents on our screen appear smaller when we change to higher resolution and bigger if we change to lower, but on android smartphones, whether you own 1080p 5-inch screen phones or 720p 5-inch screen, the screen estate appears the same. You can see the same amount of visible content in apps. The screen doesn't accommodate more content with higher resolution. This is because of the way, android apps are designed. Well, by following this tutorial, you can gain virtually more screen estate on your galaxy s4 as we're going to adjust the DPI setting.

How to adjust DPI setting to gain more screen estate on Galaxy S4
This works for rooted phones only. Download root browser app from play store from here.
Launch the app and grant it root privilege if prompted.
Go to System folder. Edit build.prop file. Now find text ro.sf.lcd_density.
The default value for s4 is 480. Change it to lower value as per your comfort level. 

Save it and grant root privileges when prompted. Now reboot your phone to see the effect.

  For example, lets change it to 370.
Don't change it to much lower value otherwise things will become  very small.
This tutorial is applicable for other android smartphones and tablets as well.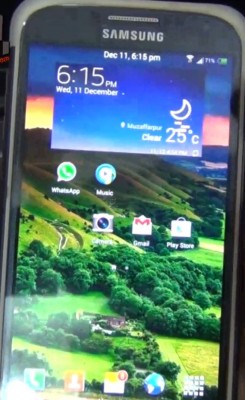 Upon reboot, you can see the homescreen has now more screen estate. The widgets have also become smaller. We now have more space in notification panel as well providing space for more notifications. The area for homescreen items has become smaller providing more empty space to showcase the beauty of background wallpaper. In earlier case, our homescreen looked cluttered but now it looks beautiful. In music player app, you can see more songs in the list. In gmail apps, you can see more mails without scrolling. The same applies for messaging and other apps including play store. Another advantage is in MultiWindow mode as we get to see more apps content in multiwindow mode with the new dpi setting.
How to fix Galaxy S4 lower dpi setting problem with Touchwhiz apps
However, changing dpi setting does affect default Samsung Touchwhiz apps like dialer. As you see, this view of dialer doesn't look presentable. The same applies for Gallery app. Now we have three columns of thumbnails. Even the camera app looks a little disoriented. Third-party apps or Google apps look fine. Only some of Samsung apps appear messed up. So, there is a way to fix this.
For that, Xposed framework should be installed and Apps settings module activated. Here is how to install Xposed framework and active interesting modules: Download Xposed framework apk from here and install it. After installation, launch the app, go to framework menu. Tap on Install/update button and then reboot phone. After reboot, go to download menu in xposed app. Download and install App Settings module. After successful installation, go to module menu in xposed and tick mark App settings module to activate it. Now go to framework menu in xposed and tap on reboot or soft reboot button.
Launch App Settings module. Locate the apps which looks disoriented and change the dpi settings for those apps. For example, Change dpi of Calculator app to 480 and tap on save button. Do the same for Gallery app and camera. TO fix dialer due to low Galaxy S4 dpi setting, change DPI setting of contacts app.
This tutorial applies for all android devices be it mobile phone or tablet. Just remember the default dpi value before making any changes so that you could always revert back to default view if things doesn't suit you!