Google had surprisingly revealed that its next android version will be called as KitKat instead of Key Lime Pie, though the pie term was used internally to refer to the upcoming version. At first, I was awestruck with this decision of Google and then I speculated of trademark infringement, but all my speculations were put to rest when Google announced its strategic deal with Nestle, the parent company behind KitKat.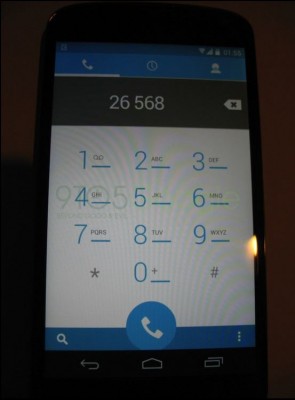 The next version of Android will be 4.4 instead of  rumored 5.0 and due for October release, probably on 14th Oct 2013. Alongside, KitKat Android 4.4 release is the announcement of Nexus 5 expected, and this phone will be the first to smell chocolatey.
Several images and Nexus 5 videos have been leaked which give us peek into what's upcoming. There are several things under hood, but KitKat is also sporting visual changes in UI. The images depict lighter color scheme in the entire UI as is the case with icons of various Google apps and services these days. Network Signal, battery and other icons flash light grey color on the status bar, instead of blue as in previous version of android. Also, the status bar seems to enforce color similar to the color of the currently opened app. The phone dialer interface and color scheme have also changed. At first look, it appears to have taken color scheme and flatter UI from Skype android app dialer. We also have the screenshot of the default messages app, and the default keyboard. We currently do not have much info to reveal but we'll keep updating this post with more leaked pictures, info and other details; so stay connected with us as we bring news that matters to you!