Portable Power Bank consists of a high-capacity battery and acts as portable charger for your mobile phones, tablets, other devices. Having a high-capacity power bank while traveling is must in digital age where you don't want to be disconnected from the world, even for a minute. It's one of those gadgets that I recommend to every smartphone user as modern android smartphones usually last 1 day (24 hours) or less on full charge. That's why I bought Ambrane P-801 Power Bank for about Rs.1300 online, though MRP is Rs.2,999.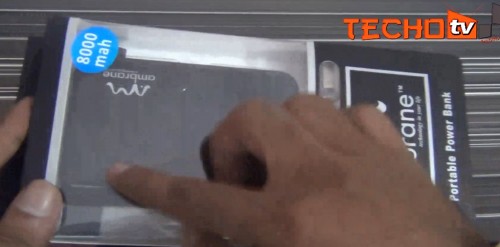 Name: Ambrane P-801 Portable Power Bank
Capacity – 8000mAh
Warranty – 1 year
Cost Price for me: Rs.1300 (online)
Charging port (Input) – Micro-USB
Two USB Charging ports (Output) for charging two devices at the same time.
The package is nice. On the back of the package is mentioned weight, which is 300 grams. We also have the telephone number, customer care email and website address mentioned for support-related issues. It comes with 1 year warranty, but this is not indicated anywhere on the package, though there is a warranty card inside the box.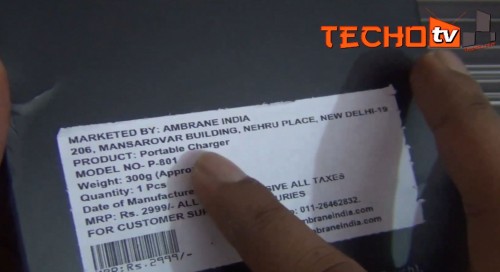 Here we've the seal at the bottom but the battery can be easily taken out from the top without breaking the seal making the whole point of putting seal useless here.
This is our power bank. It's available in two colors – black, white. I've bought black because I like black color. It has silver polish midway on its sides. The design looks attractive.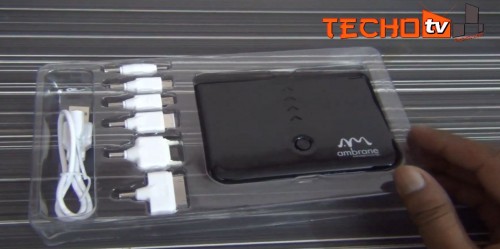 There are 6 connectors for charging various devices, including mobile phones from Samsung, HTC, Sony, Nokia, Apple iPhone/iPad. The charging cable is very short. The connectors attaches with charging cable easily. Well, if you want longer wire, you can usb data cable of your phone to connect with this power bank as well.
It doesn't feel heavy though the weight is mentioned 300g. We've two usb charging ports so that we can charge two devices simultaneously with this portable battery. The two ports emit different quantity of current. The upper one emits 2.1A current while the lower one emits 1A. This means that the device connected to the upper charging port will be charged faster in comparison to the lower one.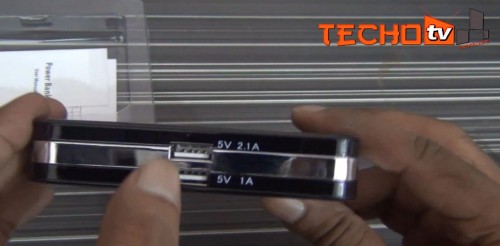 And on the other side, we've the input port for charging this powerbank battery. You'll need a separate charger for charging this unit as charger is not provided with powerbank. You can use your phone charger to charge this or use the given connector with usb adaptor or computer. During charging, the led lights keep blinking. If all the four led light glows continuously without blinking, that means the battery of this power bank is fully charged.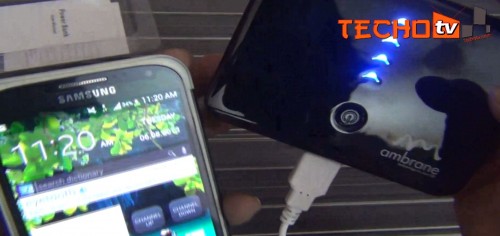 On the back, we've a paper sticker pasted, labelled, Super power pack. 8000mAh capacity. Input of 5V 1A, and the output as discussed before. On the front , we've a button for checking the remaining battery capacity as well as turning power bank on. There are four led light here which means that each one should represent about 25% capacity, but in real, the last two LED light goes off very soon, which means that all the four charging LED light are not very well calibrated to represent 25% capacity each.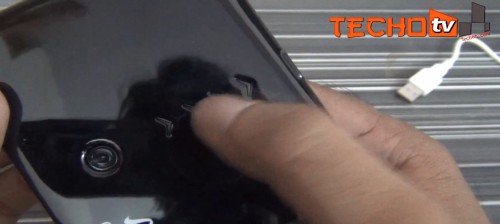 I've already tested it. It takes about 7-8 hours to fully charge itself. Based on the battery capacity of your phone, it can charge 3-4 times. It can charge my galaxy s4 about 2 times. You can expect performance of about 4500-5500mAh. Don't expect complete 8000mAh charging capacity. The charging speed is fast though. I've not exactly measured time but it charges my galaxy s4 in about 2 hours, I think. For faster charging, you should insert the cable in 2A usb port of this power bank.
The front power button sometimes gets stuck. When you connect your device with powerbank, you may need to turn it on by pressing the button. Unplug the cable and your phone after charging. The powerbank turns itself off automatically after few minutes (15 minutes as given in user manual).
Pros:
Two charging ports for simultaneous charging of two gadgets. Charging speed is different with each port.
6 different charging connectors
4 LED light charging capacity indicator
Power button to turn it on.
Turns off automatically after 15 minutes post unplugging of charging connector.
Power bank can be charged via any usb-powering device like laptop.
Huge 8000mAh capacity
Appealing Design
Faster charging with 2A 5V output charging port. The second port is of 1A 5V.
Intelligent Single Chip control for protection against overcharging, over discharging, short-circuit.
It doesn't heat up while charging your device.
Cons:
No Torch light. Some of the models come with torch light option as well.
The power button sometimes stuck.
True performance capacity is less than 8000mAh. As per my testing, it's about 4500-5500mAh output.
It is thicker. The physical dimension should be like smartphones, long and wide, but not too thick.
Charging LED indicator is not very well calibrated with the battery of this power bank. There are 4 LED light so each should indicate about 25% of the remaining battery capacity but the two outermost LED light represent the majority of the capacity while the remaining two account for much less capacity as per my testing. The outer two LED: the inner two LED= 65:35 ratio.
No charger for charging power bank. (You have to use your mobile charger or plug this power bank to usb port of your computer)
At the price (the price at which I bought, not MRP), this power bank is certainly very good, and reasonable. The capacity on paper is huge, but the real-performance capacity is less. Advantage of charging two devices at the same time. It's portable, but it is thick. You can keep it in your pocket, but it may be very difficult to adjust if you want to charge your phone in your pocket by keeping powerbank and phone in the same pocket.
An affordable portable Power Bank from Ambrane, 1 year warranty, protection from overcharging, short circuit, deep discharge; BUT like most of other power banks available in market, this one fails in true total output capacity which is much less than what is advertised on paper.