Airtel digital tv pocket tv app for android has been launched by Airtel for its DTH customers. With this app, users can watch live tv channels on their smartphones or tablet while on the go. Apart from live streaming tv channels, this app also allows users to watch past/missed episodes of 13(and counting) channels via Anytime TV option. This app is limited to Airtel Digital TV consumers and the user needs to subscribe for Pocket TV subscription, which cost Rs.60 per month. So, its not free. The charge will be automatically deducted from consumer's Airtel Digital TV account and therefore this app works with any operator. However, to avail Pocket TV streaming benefits, internet data will be consumed from your device.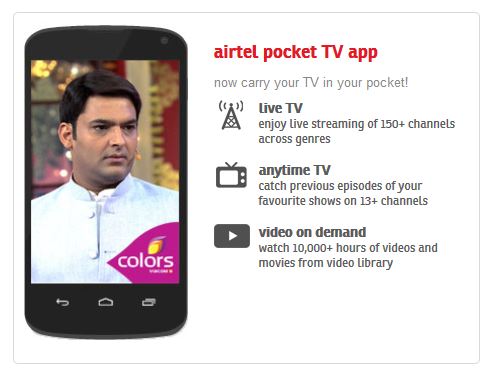 Over 150 tv channels are available to watch
Past episodes of over 13 channels can be watched anytime so if you miss your favorite tv show, anytime tv has got you covered.
Huge and growing video library of over 10,000 videos, including movies.
Video streaming quality automatically adjusts based on your device internet speed.
Stay informed with Program Guide. It contains electronic program guide of one week in advance.
Ability to set alarms as reminder for your favorite tv show time.
How to watch Airtel Digital TV on Smartphones/tablet via Pocket TV app
Download the app for android from here (iOS app is coming soon)
From your registered mobile number in Airtel Digital TV account, send sms ADD TV to 54325
Enter your Airtel DigitalTV customer id or registered mobile no in the app and authenticate via one time password.
Enjoy. Rs.60 will be deducted each month automatically from your DigitalTV account balance for this facility.
I wish it could be free for Airtel Digital TV customers :(
This app is welcome but as consumer we hoped that it should be free as we're already paying for monthly DigitalTV susbcription, why not allow access to subscribed channels for free on smartphones? Also, we need to pay for internet bandwidth usage on smartphones/tablets. So, Rs.60+internet charges could prove costly. Nontheless, something is better than nothing.