Not too often do we hear about Acer when it comes to phone launches. Primarily seen as laptop computer and tablets manufacturer, Acer do release a few smartphones from time to time to establish its name as potential marker in smartphone industry as well. Who know, when things turn! Acer has announced its new Acer Liquid E1 smartphone ahead of MWC. From the specification, it seems to be a mid-range budget phone.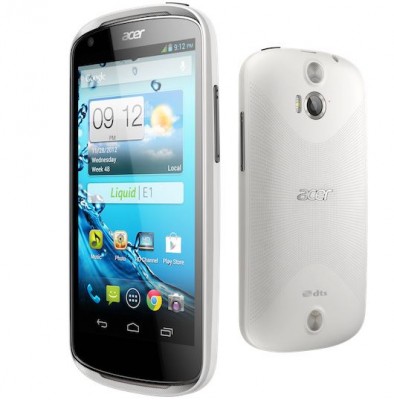 Acer Liquid E1 Specification
This phone is running on Dual-core processor earmarked for 1GHz clockspeed with 1GB of RAM. The processor and RAM combination is indeed good here, although, we don't know which processor chip is there. Weighing 130gram and just about 9.9mm thick, this phone doesn't feel over-sized or bulky either. It's a 2013-year smartphone and thus promises to come with Jelly Bean Android 4.1 out of box. With screen size of 4.5 inch and settling for resolution of 960*540 pixels (qHD), Acer Liquid E1 justifies its stand as mid-range smartphone. It also packs camera lens of 5 megapixel at the back while at the front we've to compromise with vga quality camera. LED Flash is present to help you shoot even during night. Primary camera is capable of 720p video recording. While this phone doesn't bring anything breathtaking nor do we expect anything as such, it does promise DTS digital audio support for enhanced and manifest audio output. Full specifications goes down here: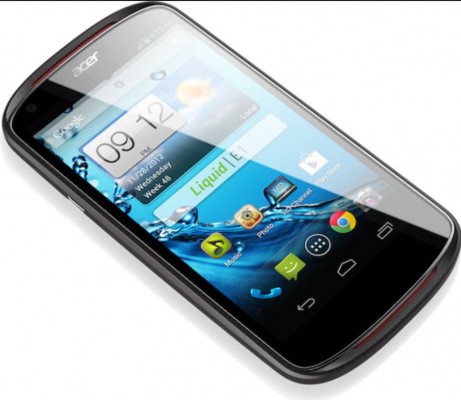 Screen Size of 4.5 inch (11.43 cm).
Display Resolution: 960x540
Display Type:
CPU: 1GHz Dual Core processor
There is 1GB RAM.
It comes with internal memory of 4 GB.
WiFi- yes
Bluetooth: yes, 3.0
Primary Camera at the rear: 5
Front-facing camera- VGA
Out of box, it is loaded with Android 4.1 Jelly Bean OS.
Battery Juice of 1760mAh.
More here: Acer Liquid E1 Full Specification, price
Acer Liquid E1 price, Release Date
Well, the announcement has been made about the specification, but not the price of Acer Liquid E1. We expect the price to be revealed once it is showcased as MWC event. The price will vary as per the markets. Lately, it has been a tradition in the industry as to reveal new gadgets without words on pricing ( But, yeah, there is one company that doesn't follow this unreasonably stupid trend, and that company is Apple. Apple always announce the price of its gadgets at the time of launch) . Anyways, Acer Liquid E1 is going to be available for sale primarily in two color choices – White with little grey, Grey with little red.