Witnessing the success of low-cost 7″ android tablets, many manufacturers are trying to capture this consumer market in their bucket. 7-inch tablets are the best portable gadget for those who spend their night time reading their favorite novels or updates from their favorite publication website. This form factor is ideal for them. Even for handheld gaming, it's a great alternative for PSP. Easy to hold, light on weight, and very convenient to use – make 7 inch tablets ideal purchase. So, here comes yet another 7″ android tablet running Jelly bean OS called as Acer Iconia B, slated to be announced at CES, 2013.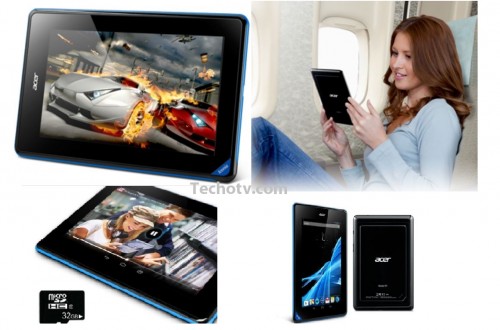 Acer Iconia B Specification
Full specifications of Acer Iconia B is not yet revealed, but a fair amount of details are already available. It weighs just about 320g or 0.75 lb. The processor being 1.2 GHz dual core and RAM of 512mb make this device fairly average enough in low-cost segment to serve what a 7-inch tablet is intended for. There is also a front camera and micro-sd card slot supporting external memory cards of upto 32GB. Cellular connectivity features are not present. WiFi is certainly available. Full details and specification in the table below:
Screen Size of 7 inch (17.78 cm).
Display Resolution: 1024x600
Display Type: , capacitive display, multi-touch
CPU: 1.2 GHz Dual Core processor
There is 512mb RAM.
It comes with internal memory of 8 GB.
WiFi- Wi-Fi 802.11 b/g/n
Bluetooth: Yes, 4.0
Primary Camera at the rear: No
Front-facing camera- 0.3mp VGA
Out of box, it is loaded with Android 4.1 Jelly Bean OS.
Battery Juice of 2710mAh.
More here: Acer Iconia B1 Full Specification, price
Acer Iconia B Price, Release Date
What's interesting is that Acer Iconia B is one of those $99 android tablets. The price of Acer Iconia B in India is expected to be about Rs.7,999.. At this price, we'll see how this tablet stands in respect of competition, once Acer Iconia B is released. The reslease date is not confirmed, but it's likely to available shortly after its official launch at CES, because the tablet has already been listed on Acer India website. In India, several brands are already producing low-cost 7 inch android tablets and people, here are price-conscious. Furthermore, cellular connectivity is also notably preferred choice for Indian markets. Apple iPad Mini costs much higher at about Rs.20,000 and hence, is not low-cost affordable buy. We don't have windows tablets in 7-inch size. Furthermore, windows tablets have been costly from the start. Nexus 7 in India costs about double in comparison to its price in US. So, if you're looking for tablet below Rs.10,000 in India, you've to go for tablets from Micromax, Karbonn, BSNL, DataWind, Spice, Videocon, HCL, Intex, Byond, etc and now add Acer to the list. What's your view?