Jump to the bottom for relevant update and fresh news concerning Aakash 2 tablet- the cheapest android tablet.
Aakash tablet had been popular because of its low cost. The whole world was surprised with such a price factor. The world envied that Indian students are getting such a cheap tablet. A tablet cheaper than this was not available in the market but sooner people realized that with cheaper price comes cheaper quality. Aakash was a piece of junk for many customers. It was intended primarily for students but the students themselves considered it crap and of no real use. So, it is time for the Government to change the face, to make a successor to Aakash tablet and hence, the Indian Government ordered DataWind to make advanced and better version of Aakash tablet, to be know as Aakash 2. This tablet has already been finalized by Datawind company. DataWind has started supplying Aakash 2 to IIT Bombay. General release is impending. They're waiting for the official words from HRD ministry about the release date. Aakash was released on October 5, 2011. Hence, Aakash 2 is supposed to be released on October 5, 2012. The new Aakash 2 tablet is improved in specifications and build quality. Not only hardware specs have improved, but also the battery so as to provide longer battery backup, because without portability, tablets carry no real value.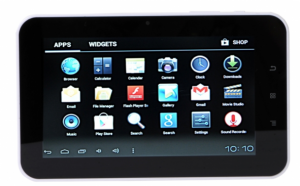 Aakash 2 Tablet Specification
Lets talk about its hardware specification now. Aakash 2 is to be powered by Cortex A8 1Ghz ARM processor. The display touchscreen is capacitive this time which means it is now more responsive to your finger's touch. The touchscreen display size is 7 inch. So, it is a 7-inch tablet. The RAM has been upgraded to 512 MB. The OS is Android 4 i.e. Ice Cream Sandwich. The storage capacity is to be about 4 GB with support for external memory card. Connectivity features include WiFi. A front VGA camera is also present which is of 0.3 megapixel. By specifications, Aakash 2 is certainly a worthy upgrade. Actual performance may not be appreciable.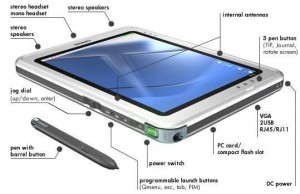 Aakash 2 Tablet Price
Price of Aakash 2 tablet is given at the bottom of this article as we received fresh news and update about it. For a tablet at this cheap price, the specifications can not be termed as bad. But do you really need such a tablet? Are you really going to buy Aakash 2? Adding numbers like 2 or 3 doesn't actually improve the overall build and performance quality of the tablet. I, personally, still doubt the actual performance capabilities of the tablet. If you're getting something like this for Rs.1,132 (price of Aakash 2 for Students), grab it now but if you're paying Rs.4000 or more for buying this tablet, I'll ask you to stay away. But that is personal choice. I generally don't advise people to buy low-cost cheap tablets because such tablets don't provide the experience a tablet ought to provide. They're just called as Tablets but actually, they're just 7-inch toy with a display. But again, people like to play with toys even when they're grown up ;) If you can't afford high-end tablets or say medium budget tablets, buy Aakash 2, as it is the cheapest tablet available in India, to get a slight feel of what tablets actually are. If you already own previous version i.e. Aakash Tablet, share your reviews/story and experiences with the tablets. We'd love to hear your saga.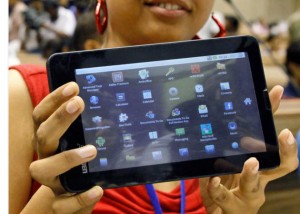 Update: The price of Aakash 2 for students is Rs.1,132. This is subsidized price for Indian students only. The commercial version, also known as Datawind Ubislate 7ci, is available for everyone at price of Rs.4,449.
Other commercial version i.e. Datawind Ubislate tablets are available in following vairants :
All these variants listed below includes the same hardware specification as Aakash 2 tablet, except with few variation as given under:
Ubislate 7Ri (Resistive touch screen) for price of Rs.3,499
Ubislate 7R+ (Resistive touch screen with GPRS/SIM slot phone functionality) for Rs.3,999
Ubislate 7Ci (Capactive touch screen) for Rs.4,499
Ubislate 7C+ (Capacitive touch screen with cellular connectivity for GPRS – SIM slot phone functionality) for Rs. 4,799
All the given commercial models have WiFi connectivity support and can be bought from datawind.com . To buy Aakash 2, you need to contact your college/university. If you've any questions or concerns, do not hesitate to ask via comment section below.