Windows 8 is really very good os. Everything seems swift but things have changed. Emphasis is done more on touch-based gesture rather than conventional mouse and keyboard input. For many new users, getting through various new stuff of windows 8 is fairly easy, still some users find it confusing and difficult to access shut down options in Windows 8. Even, I wonder why Microsoft made it difficult to find? Do they not want their users to power off their system? Anyways, here in this tutorial, we'll tell you five easy ways to turn off your windows 8 ccomputer, laptop or tablet.
Use the hardware power-off button on your computer, or keyboard. – On desktop computers, we generally have a dedicated physical power button. Use it to turn off windows 8. On laptops, we've have turn-off key either located in the keyboard or at some other suitable position. Also, you can change the default behavior of power buttons by pressing win key+x and then selecting Power options. In the next screen, select – Choose what power buttons do option located in the left side. Now, change the default action of power buttons as desired on Windows 8.
Press ctrl+alt+del from anywhere and you'll see a list of options including quick 'Sign out' in the center of screen. Ignore those options and look at the bottom right corner where turn off icon is located. Tap or click on it and either choose Restart or Shut down.
Move your mouse to top right or bottom right to bring charms bar, click on gear like settings icon and then tap on power option there. Observe other useful settings and options there like pc info, personalization, etc to learn more ways to customize windows 8.
Hold win key + i on keyboard to bring up options and click on power icon located at the bottom and choose the desired option which includes sleep, restart, shut down.
Go to desktop and then press alt+f4 and choose shutdown from the dialog box displayed. This works in desktop mode. Make sure desktop is acitve instead of any application or program. It also presents other useful options like log out, Switch user if you want to stay logged in but temporarily log into another user's account, restart, sleep to save battery while maintaining power in the system, etc.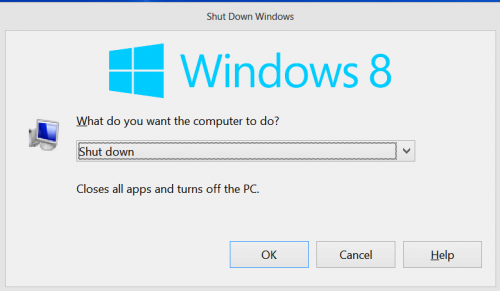 BONUS TIPS : Use our tweaking guide by following this link where we mentioned about how to add shutdown shortcut icons on start screen and in right click menu.
Press win key+ x from anywhere for quick access menu which has useful options for managing computer.
If you've not upgraded to windows, we've shared windows 8 pro upgrade guide for cheapest price . Also, if you're planning to buy windows 8 computer, check our extensive guide and resources on windows 8 tablets .