Microsoft's recently launched free email service on the web is on Outlook.com . The saga of email from Hotmail to Outlook is really interesting as the two email service from the same company are following different norms and patterns of usage. Where Hotmail has been seen as ads embossed and cluttered in design, Outlook is on the opposite side exhibiting sheer beauty, simplicity and speed. Here in this post, let me tell you ten compelling reasons why you should start using Outlook.com as your main email service provider :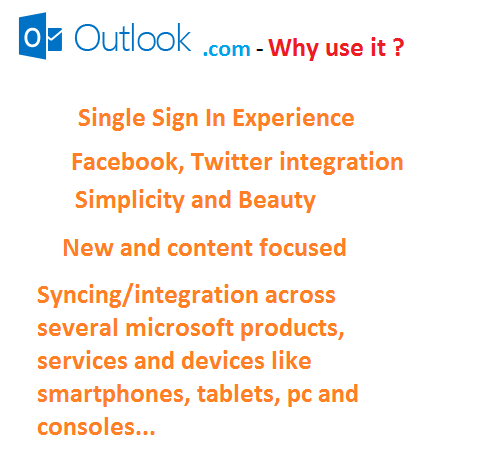 Integration and single account/sign in experience : If you have windows mobile, start using outlook.com email as this will enable the single sign in experience, synchronization across various platforms, easy management and improved integration. The earlier you adopt, easy it would be. Outlook's email service is aimed at easy transition/switching from another email service provider including gmail. Microsoft is also launching Microsoft Surface which is a tablet based on windows 8 os. Xbox new console which is yet to be launched will also rely on integration channel.
Outlook's email service is fast, realtime. Yeah, from what I have observed, it is relatively faster than gmail.
It is simple, user friendly, optimized for touchscreen devices. It is more content focused. The ads are unobtrusive. Even a newbie can start using it without any assistance.
You're getting virtually unlimited storage for your email so you need not worry about your old mails and archiving purposes. You need not free up your inbox to make space for new mails. In addition to this, you'll get free complimentary 7 GB of cloud storage from Microsoft Skydrive.
You can send attachments of larger file size : a single file can be of upto 300 mb (100 mb directly from your computer and 300 mb from your skydrive). Even gmail doesn't provide this large file size attachment options.
You can connect facebook and twitter accounts so that you can check your friends' updates, like, comment an/or retweet their tweets.
You can create multiple email alias : Email alias are like normal email address except that you don't need to create another account. Emails to your email alias will be saved in a folder in your account by default. For example, if my main account is techotv @ outlook.com for all my mails, I may create email alias to receive sales/advertising related queries in separate folder in my inbox by creating email alias-  techotvads @ outlook.com .. So, with one account, you get several email addresses with email alias feature.
If you love Microsoft and their products/services, just use it.
If you use outlook software and love it, why not use outlook email service. Outlook 2013 will have fantastic experience with outlook.com's email.
Outlook.com is new, so just try it if you are among those who are so-called early adopters and always looking for something new to have your hands on.
So, Are you switching to outlook's email ? If already switched, share with us your valuable experience in comments below :