Everywhere, you're being fed with how powerful and amazing Galaxy S4 smartphone is, yet those publishers/bloggers know in their heart that the handset is much of hype and it doesn't offer something really revolutionary or extraordinary. It is arguably one of the best smartphone of 2013 and will certainly set success scores in phone sales channel, but there are things that leave us disappointed from Galaxy S4. So, in this article, I've tried to sum up 10 reasons why you should not buy galaxy s4. These 10 points do not necessarily reflect disadvantages of Galaxy S4. These points also list features that we had expected, but we're left craving for the same without due settlement.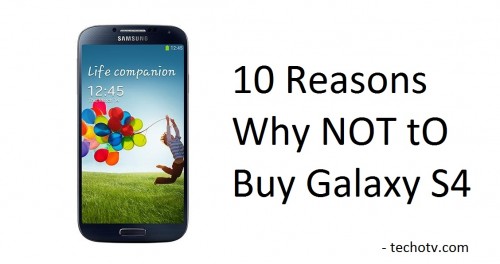 No Waterproof capabilities – Seriously, as time passes, phones are being made more strong, robust and they can survive intensive physical-stress test as well, so with Sony offering waterproof capabilities in Xperia Z, I thought that GS4 will definitely be coming with similar strength, but unfortunately, GS4 is not resistant to water. Well, to contend for Samsung's decision, there is one valid point i.e. for waterproof capabilities, backplate of phone would have been non-removable and Samsung didn't want to take away the option of removable battery/back-panel in lieu of waterproof feature. Still, I think that removable back-panel is not a big deal and users would have been more than willing to opt for waterproof phone, rather than phone with removable back-panel. So, if you're looking for waterproof phone, Galaxy S4 is not for you!
Plastic Build – How loud you cry, Samsung won't listen to you! Many a time, several users have complained of cheap plastic feel of Samsung flagship series handset. Since GS4 competes with iPhone 5, users especially those who want to make switch from Apple's iPhone are left disappointed with

cheap plastic build and not-so-premium feel

. When it comes to design also, Galaxy S4 is not something very appealing at all.
No Stock Android + Lack of enthusiastic CyanogenMod Support, Future updates non-reliability – Google's Nexus line of handsets feature stock Android OS providing pure native speed, feel and support. Another advantage of Nexus phones is that they're frequently updated with the latest android OS flavor and in fact, they're the first to get android updates. Nexus users don't need to wait for Google's nexus phone partner (Samsung, LG, HTC, etc) to release firmware updates. With GS4, you need to rely on Samsung for future firmware updates which are often delayed. Also, based on my past experience with Samsung phones, future firmware updates may not be as reliable as stock Android OS. Many a time, they release firmware updates with certain bugs and issues unresolved. Moreover, CyanogenMod team is not very enthusiastic about GS4. One of the contributors has expressed his concern over how they're not happy with Exynos sources and lack of proper documentation leading to buggy CM ports. Although, CyanogenMod team has not officially dropped support for GS4 as yet, but we've reasons to believe that official CM ports for GS4 may not be released. So, if you're looking for frequent firmware updates and stock android feel, Galaxy S4 is not for you!
No breakable, Flexible display : When we heard the rumor that Galaxy S4 will come with non-breakable display or flexible display, or probably curved display, we were very much excited. Most of the news publication websites covered the stories. What were they? Unsubstantiated rumor creating hype for GS4? No such thing is there on Galaxy S4. We all know Samsung has such technology in store, but not yet in GS4! Well, such display is not present in any other smartphone as well, but had it been present on GS4, it would have made real difference with the rest of the phones!
Galaxy S3 Owner – If you already own Samsung Galaxy S3 phone, we suggest you to skip SGS4. There are no compelling reasons to upgrade to GS4 as that would be costly affair. All the software features of Galaxy S4 will come to S3 as well. Also, to give you further assurance, Galaxy S3 will also be upgraded to Android 5 Key Lime Pie OS when due. GS3 is still among top 5 handsets on GeekBench 2 or other popular benchmarking tests. You already have a powerful phone and you should rather wait for the next galaxy phone, probably Galaxy S5, rather than Galaxy S4.
What's Good for Music lovers – What's unique or special is there on GS4 for music lovers? It's surprising as how Samsung bundles cheap earphone with its best phone. To appreciate music, you need to buy extra pair of headphones. Sony has bundled high-end earphone with Xperia Z. HTC One has good improvement in sound quality and also music on its loudspeaker is really good. What do we have with Galaxy S4 for music?
Nothing sort of revolutionary – There are of course few software tweaks and gimmicks (Air Gesture, several camera tweaks, dual shot, etc.) that seem very appealing in Galaxy S4, but when it comes to hardware, there is nothing revolutionary in GS4 that could make strong pitch in its favor. Those software enhancements do not count under essential features. Galaxy S4 doesn't present anything kind of extraordinary or revolutionary that could make us jaw-drop.
Time to check out other alternatives – If you've been using Samsung's android phones only till now, this may be the best time to check out other brands, like HTC or Sony. HTC One is a beautifully designed handset with ultrapixel camera, beats audio and powerful internals. Sony Xperia Z is waterproof phone with high-end specifications. Google Nexus phone comes powerful internals along with stock android OS and are always updated timely with the latest android flavor. Unless, you give others a try, you will not know what you're missing.
High initial price – Given the enormous hype with SGS4, the price of Galaxy S4 will be unreasonably high in several markets, atleast initially. As is the trend with Samsung's handsets, the price gradually drops down. So, if you're going to buy galaxy s4 as soon as it launches in your country, be ready to experience buyer's remorse later when the price decreases and your friend buys the same piece at considerably lower price.
No Dual SIM Variant – In countries like India where dual-sim phones are more preferred and used, we don't have any high-end handset from top brands, like Samsung. Samsung didn't officially announce any such dual-sim model of Galaxy S4. So, if you're looking for a top-notch dual-sim android smartphone, Galaxy S4 is not for you. Indians have to stick with Micromax (Canvas HD), Karboon, or Lava, etc brands for mid-high-end dual-sim android smartphones.
These 10 points listed above don't establish that HTC One is better than Galaxy S4 or Xperia Z is better than Galaxy S4. In fact, many of the points listed above are valid for HTC One and Xperia Z as well. If these 10 points seem very biased, don't worry, we've written about several good points highlighting Galaxy S4 advantages as well. We'll also write more posts with varied opinions on this phone and other high-end phones, so keep reading us. And don't forget to put your opinion in comments – whether you agree with the said points about Galaxy S4 or disagree?