With Micromax A116 Canvas HD, Micromax has shaken the phone industry. Mobile phones freaks, gadgets lovers, industry analysts, media and bloggers – whether they love it or hate it – they're are talking about it. We all know that Canvas HD makes a killer phone at the price at which it is selling, but let's point out the negative side of such a killer phone. Let's discuss top 10 reasons not to buy Micromax Canvas HD phone :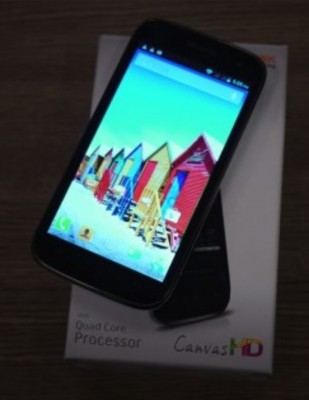 Display – It has HD IPS display, yet the display quality as not as good as featured high-end smartphones from Samsung. The brightness level is not that appreciable either.
The display is not scratch-proof, nor protected by Gorilla Glass, therefore makes it vulnerable to scratches, dust and easy shattering.
Magnetic sensor – Lack of magnetic sensor means compass won't work. You might wonder who uses compass these days? Well, such sensors are used in determining direction in several maps and other similar apps.
Rear Camera – Although the megapixel count of camera is good i.e. 8 megapixel, yet the camera sensor and lens is not as good as those present in high end smartphones from Samsung. Camera in Canvas HD won't be that good. Furthermore, when it comes to taking photos in lowlight, Canvas HD camera simply sucks!
No Full HD video recording i.e. 1080p video recording is not supported at all. Micromax Canvas HD camera can shoot 720p videos only as per official specifications listed on Micromax official website. But some of our readers and Canvas HD phone users are reporting Full HD Video recording support as well, so this is really weird. Micromax Fail or sign of poor/mistaken/misinformed marketing! Micromax should be clear right on their part and not create confusion of any sort.
Front Camera – Although the front camera is of 2megapixel, yet the quality of it is not as good as it should be.
No NFC, No HDMI – How will you be able to connect Canvas HD phone to Large display, like HDTV?
OS and Future firmware updates : It's almost express that you're buying Jelly Bean phone, but don't expect android version updates in future. When it comes to pushing out OS version updates, all these domestic vendors including Micromax sucks.
Lack of Developers support– Moreover, since these phones are limited in their niche and market, Not many android developers take interest, which means that you'll find a lot of difficulty in getting support for customization of your phone on android forums on the web, for example in case of rooting, modding, etc.
Low internal memory – Internal storage is very low i.e. just about 1.7GB. This is really too low for high-end smartphone. Atleast, 8GB of internal memory would have made more sense.
Brand recognition – Micromax is still seen as cheap chinese kinda brand by a major population. They disregard Micromax phones as cheap Chinese phones. So, if you care about show-off or exhibiting pompous feel/pride, Micromax is not for you. Period!
We've not commented on CPU/GPU of this phone nor on battery, because comments on these aspects require thorough benchmarking and testing, but the 10 reasons listed above duly points out why you should not buy Micromax A116 Canvas HD phone. We've also heard of poor after-sales support but this thing is different in different cases. Feel free to express your opinion in comments!
Check out latest Micromax Canvas HD lowest price in India